Shop Bar Stools near Philadelphia
Shop bar stools from local furniture stores near Philadelphia, Pennsylvania
Stool by Liberty Furniture
Bar stools can be a fun addition to any home! Since they sit around 28 to 30 inches tall, bar stools are a popular choice to seat around taller counter spaces, such as kitchen islands and breakfast bars. Some people even choose to pair their bar stools with sofa tables in their living rooms. There is no right or wrong place to use a barstool. The only question is, which bar stool will work best for you? Whether you're going for a sleek, modern design for the kitchen counter or a bold, retro-inspired look for your bar, there is a bar stool out there for all tastes! If you need a bit of help deciding which bar stool is right for your home, we've gathered data from local furniture stores near Philadelphia, Pennsylvania to help you narrow down your options!
Upholstered Bar Stools
---
Bar stools with upholstery can be the perfect option if you plan on sitting for longer periods of time. Whether you want to kick back at your bar and have a few drinks with friends, or station yourself at a sofa table to get some work done, an upholstered bar stool can make the experience much more comfortable. These upholstered stools can be covered with various fabrics or leather. The type you choose depends on the look and aesthetic that you're going for. Click the link below to check out the upholstered bar stools sold locally in Philadelphia, Pennsylvania.
Backless Bar Stools
---
Unsurprisingly, backless bar stools have just a seat and no back. These can be perfect for smaller spaces, such as if you need to tuck it below a table to make more room. These also make it easier to swing yourself around and face the other way if it's not already a swivel stool. You do have to be a little cautious when using these since there's nothing for you to lean back on or grab for support. Take a look at the backless bar stools available near Philadelphia, Pennsylvania.
Full-Back Bar Stools
---
Bar stools with full-backs are the better choice if you plan on spending long periods of time sitting in them. These are much better in terms of back support during those long hours of working or studying since they help prop you up. They also add an additional sense of security so that you don't need to worry about falling over backward. Of course, if you're looking for a bar stool to tuck easily beneath your counter when not in use, this is probably not the best option for you since the majority will not fit. If full-back bar stools are of interest to you, take a look at the local selections in Philadelphia, Pennsylvania.
Armless Bar Stools
---
Bar stools without arms provide easier access to slide into the seat. Not to mention, they can tuck in closer to your counter or bar once you're done with them, meaning your space will look tidier and a tad more spacious. You may also be able to fit more armless bar stools into one space since there are no arms to take up extra room. On the flip side, since armless bar stools do not provide any room to rest your elbows, you'll have to depend on whatever surface is in front of you for arm support. Take a look at the armless bar stools available near Philadelphia, Pennsylvania.
Bar Stools with Arms
---
Bar stools with arms give you added support when sitting and having a drink or digging into some work. These offer a place to rest your elbows, meaning you won't need to slouch forward to place them on the nearest surface. However, since they're larger than armless bar stools, you may not be able to fit as many around an area. Look at the local selection near Philadelphia, Pennsylvania to see if any of them fit with your style!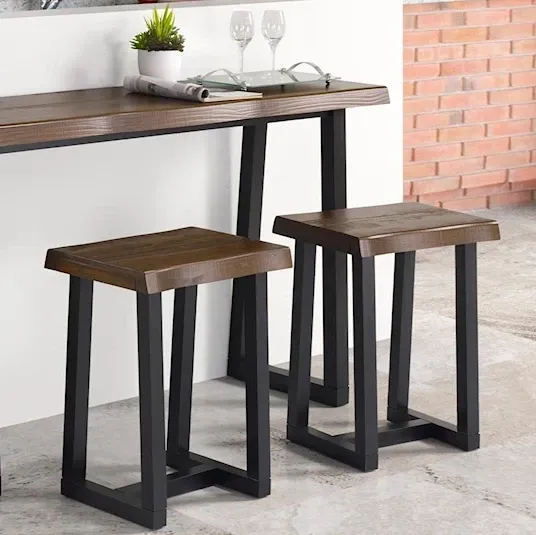 Stationary Bar Stools
---
A stationary bar stool is simply one that doesn't move in any way. This means no scrapes or dings on your furniture by reckless swiveling! Since stationary bar stools don't require swivel mechanisms, there's a broader option of styles that you can choose from that would never work if a swivel base were present. On the flip side, it won't be as easy to spin and face the television when the big game is on.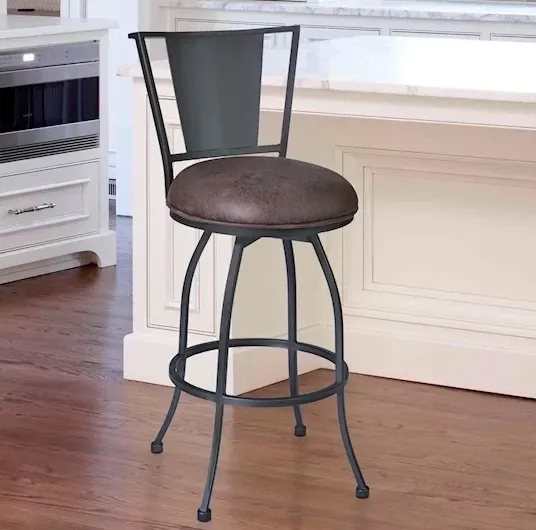 Swivel Bar Stools
---
As the name suggests, swivel bar stools are stools where the seat is able to swivel from side to side, and some are even able to turn all the way around. Swivel seats allow you to easily turn and face family or friends while eating and socializing. However, you do need to exercise a bit of caution when using these. If the stool is too close to a wall or counter, you risk damaging them when turning in the seat