Shop Sofa Beds near San Diego
Shop sofa beds from local furniture stores near San Diego, California
Featured Sofa Beds
Available locally in San Diego
As the name suggests, a sofa bed is a sofa that can be converted into a bed. Since sofa beds are essentially two pieces of furniture in one, they're the perfect option for people who have minimal space in their homes. You may consider this kind of furniture if you live in a studio apartment where the entire room is your bedroom. Instead of crowding your space by having both a sofa and a bed, you can purchase a sleeper sofa and adjust it accordingly without sacrificing all of your room.
You may also consider purchasing this type of furniture if you have a lot of company but have nowhere for them to sleep. Whether it's your inlaws from another state or friends visiting from another country, a sofa bed is the perfect option for those spontaneous sleepovers. These also make great options for college students who have very small dorms.
Pull Out Sofa Beds vs Convertible Sofa Bed
There are two different types of sofa beds: pull out and convertible. When purchasing a sofa bed, you might want to consider which type will be most convenient for you and your family.
Linville Collection by Klaussner
A pull out sofa bed typically has a mattress and frame hidden beneath the seat cushions. When you want to use it, you simply pull the cushions off, grab the frame, and unfold it into its bed form.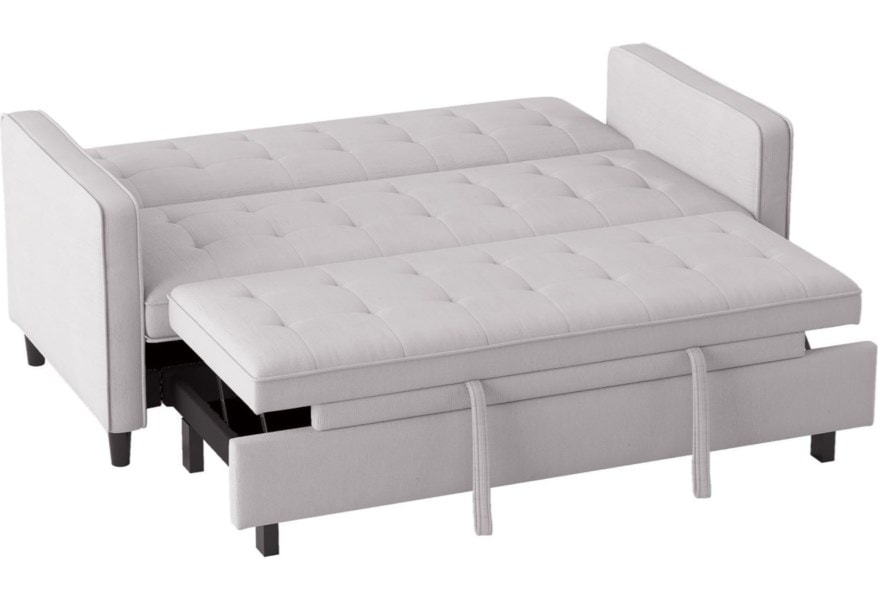 Strader Collection by Homelegance Furniture
A convertible sofa bed, on the other hand, can easily be folded backward to form the bed. Convertible sofa beds do not have any bed frames or mattresses.
Shop Sofa Beds by size
Queen Sofa Beds
Shop hundreds of local queen sofa beds near San Diego
Full Sofa Beds
Shop hundreds of local full sofa beds near San Diego
Twin Sofa Beds
Shop hundreds of local twin sofa beds near San Diego
Sectional Sofa with bed
A sectional sofa bed is a sofa that looks like a typical sectional, but can still be converted into a bed. Since sectional sofa beds tend to be larger than regular sofa beds, you may consider this option if you've got a bigger living area with more space to work with. These are also available in both pull out and convertible styles.
Cot/Chair Beds
Similar to a sofa bed, a chair bed is a chair that can fold out into a bed. These typically only fit one person and are a great option for apartments or homes with very limited space. Like the sofa bed, a chair bed can either be pull out or convertible.
American Made Sofa Beds
If you want to support local jobs the growth of American factories - shop our collection of high quality sofa beds made in the U.S.A.